Regular price
$125.00 USD
Regular price
Sale price
$125.00 USD
Unit price
per
Sale
Sold out
When I went to school, the center of the universe was a stand of palm trees.
In the center of the New College of Florida campus is a courtyard with 24 enormous royal palms where you could sit and watch the world go by or dance the night away at a party. We used to have these Palm Court Parties - PCPs (now called Center of the Universe Parties - COUPs) which involved days and days of preparation, with themes, costumes and artists (like me) painting murals, with music so loud that my ears are still ringing (literally).
I'd sit on the low wall around the plaza watching the days go by.
I have many fond memories of daydreaming in Palm Court, dancing at walls (the smaller Palm Court parties), running into friends. I danced with my wife there - damn, she's a good dancer - and made a mural comparing Popeye's Chicken to God. 
I kinda love royal palms.
These trees look like some amalgam of concrete pillars and nature. It's really crazy that they can actually survive.
And I enjoy painting them.
What's great about a palm tree is how expressive the fronds are. They bend elegantly with the wind and look at any time like they might fall to the ground. 
This painting is a homage to New College
New College was this crazy tiny innovative liberal arts school that is part of the Florida public university system. As a student, you used to be able to choose every element of your program and, more importantly (at least for me), you set your own standards. 
Lately, it's been taken over by the Republican administration of Florida, and they're slowly destroying everything that made New College great. I guess all good things, no matter how safe and secure they seem, are ephemeral, and we have to take the pleasures we can before they get destroyed.
The actual print is beautiful.
I am so excited about the quality of these prints. It's uncanny how they capture all the nuance and subtle coloration of the original. People who have seen these prints cannot believe that they are not looking at an original. It's not a poster, but rather a full representation of my vision.
I use a top-of-the-line Epson printer with pigment ink that is tested to last 200 years. I print on Hahnemühle German Etching all-cotton archival 310 g/mA Paper.
Each print is numbered and signed by me.
The original size of the painting is 20" x 14" so to get closer to the original, I recommend the larger size, but we're also offering a smaller more affordable version.
Share
View full details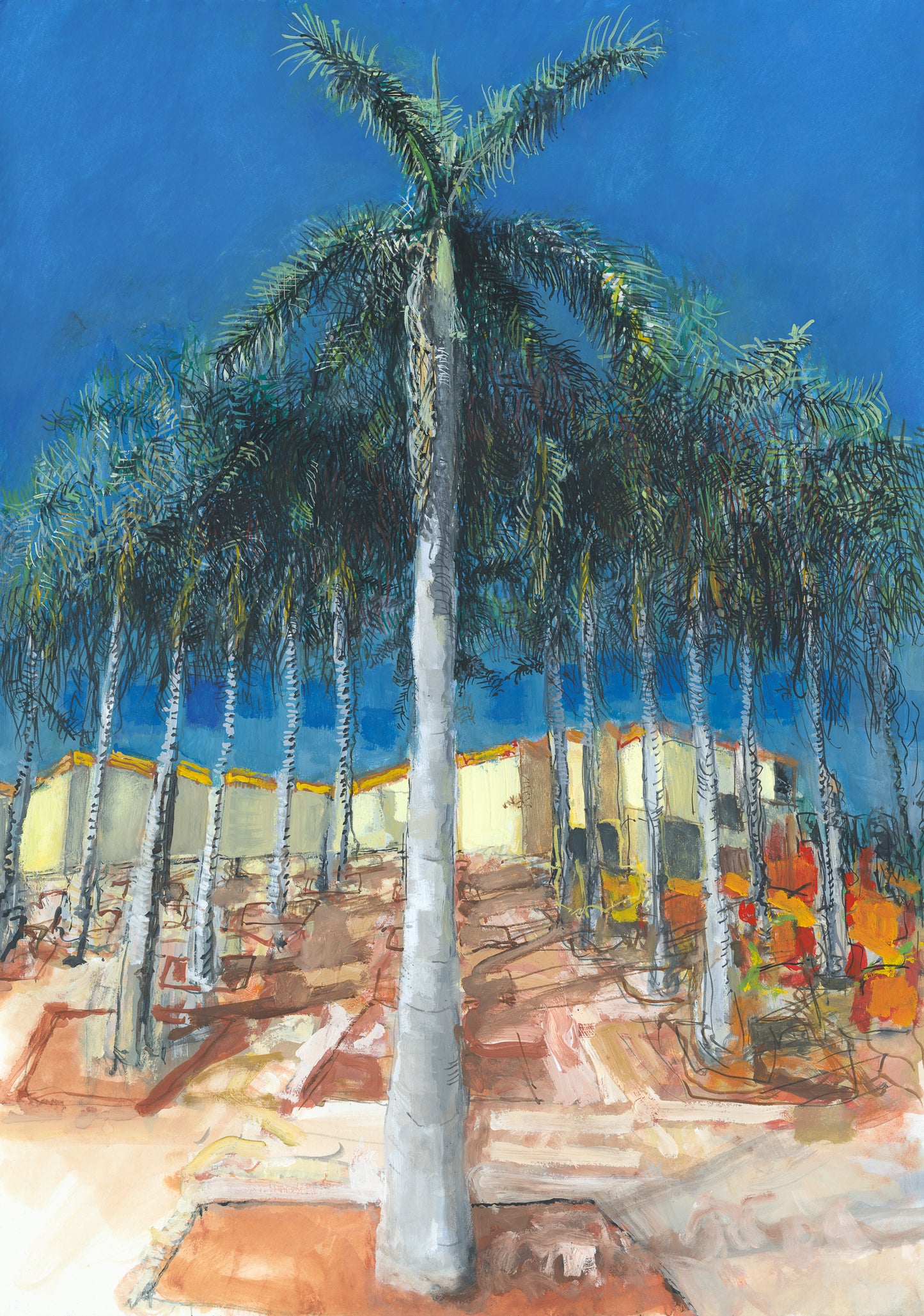 Palm Court, the painting takes me back to Palm Court, the place and my mind floods with all of the great memories of it.
It Brings Back Memories
You were either there or you weren't..
Great print!
Great quality print of a stunning piece of one of my favorite places, what's not to love?
Great art, great memories
This particular rendering of Palm Court really brought back the spirit of Palm Court and New College, one of the most positive and formative periods of my entire life. Also it's a beautiful work.
Dan and I love this print, because it's powerful and inspiring, plus it is beautiful. We are so pleased to have it in our home.