Regular price
$250.00 USD
Regular price
Sale price
$250.00 USD
Unit price
per
Sale
Sold out
The best response to the insurrection was strong for its humility.

After the mob was escorted out of our House, with trash strewn about, a lone man in a blue suit, began to clean up. "When you see something you love that's broken you want to fix it. I love the Capitol. I'm honored to be there," said Representative Andy Kim from New Jersey.
It "really broke my heart."
When I first saw the pictures of Kim cleaning up, it reminded me of when I worked with my neighbors to paint over some of the graffiti in my neighborhood many years ago. People told me that it wouldn't make a difference, that the tags would be back in a day, but that's not what happened. If something looks well-maintained, and you clean up new vandalism right away, people tend to leave things alone.
When Kim saw the mess, he got right to it. "What else could I do?" And I like to think that his actions (along with a huge police presence) were a large part of why nothing else has happened since. You keep things looking orderly, you clean up the damage, and the vandals leave you alone.
This is a small painting with a lot of heart.
The actual work is 7" x 10" and it's a study that I may develop into a larger painting. I really think the looseness of the study fits nicely with the subject matter. 
The actual print is just gorgeous.
I print this using a top-of-the-line Epson printer on archival Hahnemühle German Etching 310 g/mA Paper. I use pigment based inks that are certified to last over 200 years. It is uncanny how the print looks like the original.
The paper has a subtle texture on it that feels warm. Everyone who has seen these prints is amazed at how beautiful they are.
I am so excited to be able to provide something of such high quality at a reasonable price.
It fits in standard frames.
The original drawing is 7"x10", but the print has a 1/2" border on the top, left and right and a 1" border on the bottom, so the print fits in a standard 8.5" x 11" frame.
I am now printing the 2nd run of this edition. The first run of 10 sold out.

Share
View full details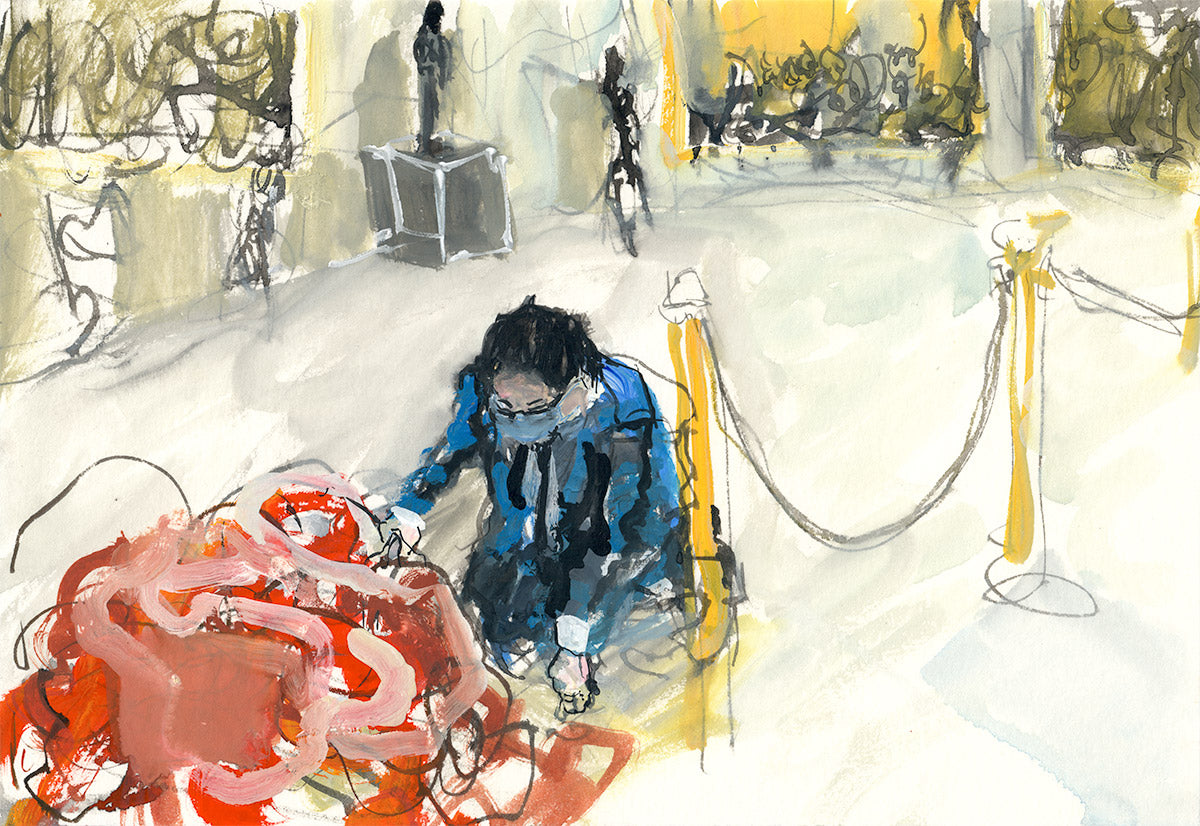 Love the picture. Such a tragic time captu...
Love the picture. Such a tragic time captured beautifully.
Wonderful piece of art. Beautiful interpre...
Wonderful piece of art. Beautiful interpretation of such a horrific event. & while it's not the gallows that draw me to the art per se, it's the significance of the whole event. It's significant & of much importance to remember what took place of January 6th, regardless of political affiliation. I can't wait to see what other pieces of art come out in the following. Sending much positive energy!
Beautiful Depiction
The gentleman represented in this print is my Congressman, Andy Kim from NJCD3. I have been involved with Congressman Kim's campaigns since he first declared in May, 2917.
Congressman is an outstanding representative. He is caring, involved, humble, dignified, and focused on providing the best for his constituents. This work has captured those qualities and I am amazed at the emotion this painting evokes. It is beautiful and I love having it.
Andy Kim
The print was wonderful! We were pleased to present it to Rep. Kim and he was overcome. It hangs in his office.