Regular price
Sale price
$95.00 USD
Unit price
per
Sale
Sold out
An Unstoppable Force Meets an Immovable Object 
When I started work on this painting, I thought it was going to be about the McCloskeys, the St. Louis couple that drew their guns when a group of protestors walked down their "private" street. But as I learned more, I became interested in the contrast between the McCloskeys and Cori Bush, a community organizer who led the march.
Cori Bush is a single mother and congresswoman who has been a protest leader since the Michael Brown killing in 2014. She challenged the longstanding Democratic incumbent in a primary and won. As a community leader, she marched past the McCloskeys' home with a megaphone, and I like to think of the contrast of her words against their threats of violence.
The painting is showing a battle between these two spirits of St. Louis. I guess it's not too hard to see which side I'm on.
This painting is both small and big.
The artwork itself is only 14" x 20", but I painted it as if it were a 7' x 10' oil painting. I used small brushes and worked on it for weeks. For example, I probably spent 5 full days on Cori Bush's hands.
The print is drop-dead gorgeous. 
I am so excited about the quality of these prints. It's uncanny how they capture all the nuance and subtle coloration of the original. People who have seen these prints cannot believe that they are not looking at an original. It's not a poster, but rather a full representation of my vision.
Received my print this afternoon.  There are all sorts of words I could use to describe what I think of it.  I'll keep it simple and just say "AWESOME"
Rudy Zuellig Jr.

I use a top-of-the-line Epson printer with pigment ink that is tested to last 200 years. I print on Hahnemühle German Etching all-cotton archival 310 g/mA Paper. The print is slightly smaller so it fits edge to edge on 13" x 19" paper. The paper has a subtle texture on it that feels soft and really captures the ink.
You are buying art, not a poster.
Each print is signed and numbered, and there are only 100 in the edition. I want these to be keepsakes that are passed on for generations.
Limited edition prints of this quality typically cost $200 or much more.
Because I paint, scan, print, market, and ship these myself, I can keep the costs down. I'm not doing this to make money. My goal is to make great art and get it into the hands of collectors who will really appreciate it.
Share
View full details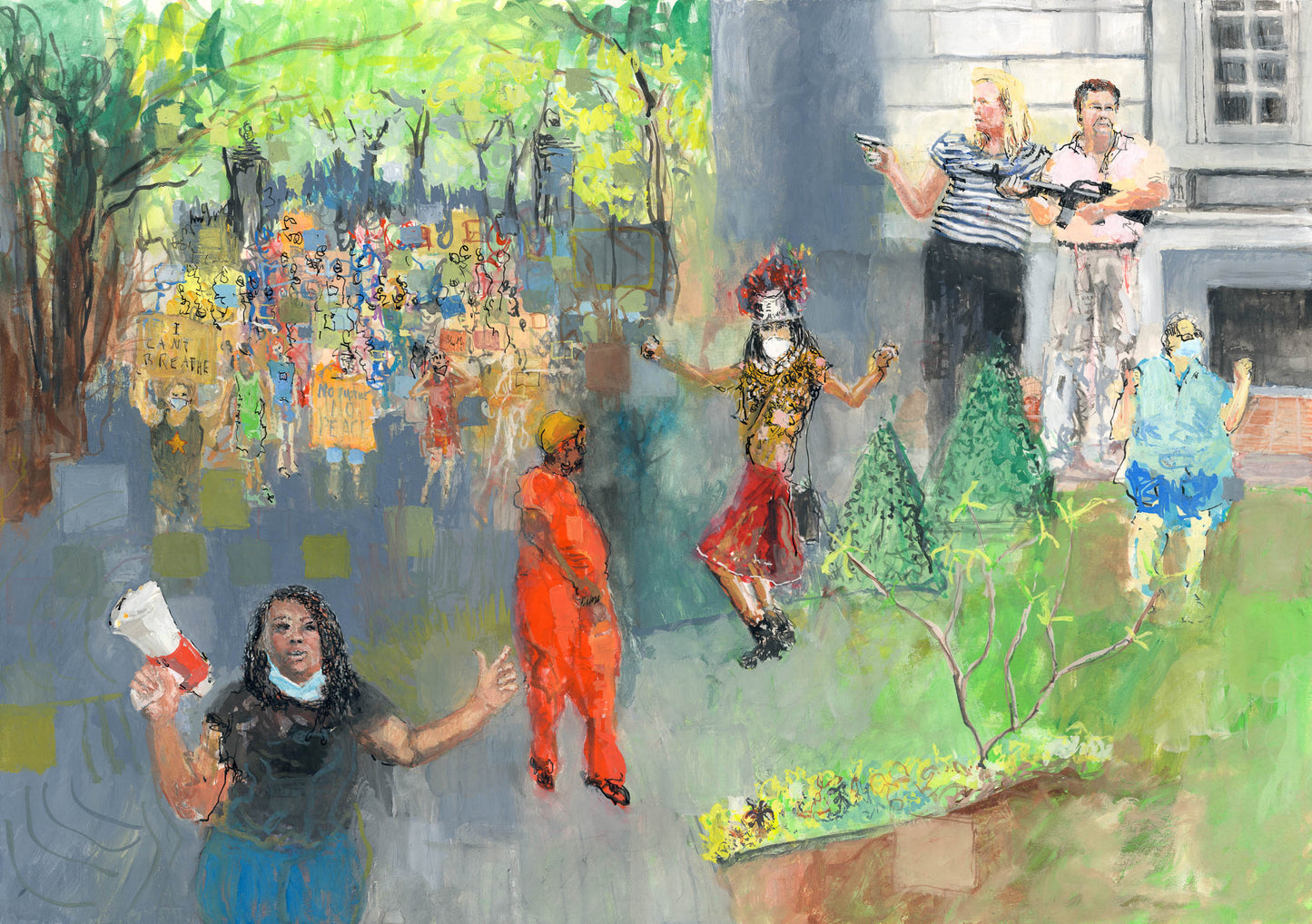 Monumental Protest - St. Louis, Mo
I think your painting represents exactly what happen that day. Not to go into anything political so I'll simply say I think your painting is "AWESOME"