Regular price
$195.00 USD
Regular price
Sale price
$195.00 USD
Unit price
per
Sale
Sold out
It seemed to take forever, but finally...

On Saturday, November 7, the press finally called it. After what seemed like months of worry, we had a winner and we finally got to breathe a sigh of relief. The long election was over.
In my neighborhood, people were dancing, singing, and yelling.
I've never seen anything like it. People ran outside with pots and pans. Drivers honked their horns. It was like the Arab Spring, only in the USA. 
When I began the painting, it was all ice cream and roses. Democracy was saved! But in the time I worked on the painting, the unfettered joy quickly turned to more outrage. And soon the crazy conspiracy theories turned to insurrection.
So there's joy, but there's an underlying uneasiness.

I feel like we are in ultra slow motion, like in The Matrix, when it's not enough for Keanu to dodge one bullet. I just wish this bullet would get behind us (and off of Twitter).
I needed two paintings to say what I needed to say.
The celebration was all over the city, and there were people from all walks of lives cheering and dancing. I just couldn't fit that all into one painting, so this one is a Diptych. It consists of two 20" x 14" gouache paintings for a total size of 20" x 28". I'm really happy with the energy here, especially the way the crowd is flowing out of LaFayette Square. 
These paintings may be small, but they feel big.
Each piece is 20" x 14" The artworks itself total to only 20" x 28", but I painted them as if it were a 10' x 12' oil painting. I used small brushes and worked on it for weeks.
The prints are drop-dead gorgeous.
I am so excited about the quality of these prints. It's uncanny how they capture all the nuance and subtle coloration of the original. People who have seen these prints cannot believe that they are not looking at an original. It's not a poster, but rather a full representation of my vision.
I use a top-of-the-line Epson printer with pigment ink that is tested to last 200 years. I print on Hahnemühle German Etching all-cotton archival 310 g/mA Paper. These are designed to be framed or hung together. The outside of each print has a 1" border, but on the inside, I print right to the edge, so the images of each painting abut each other.
You are buying art, not a poster.
Each print is signed and numbered, and there are only 100 in the edition. I want these to be keepsakes that are passed on for generations.
Limited edition prints of this quality typically cost $300 or much more.
Because I paint, scan, print, market, and ship these myself, I can keep the costs down. I'm not doing this to make money. My goal is to make great art and get it into the hands of collectors who will really appreciate it.
Share
View full details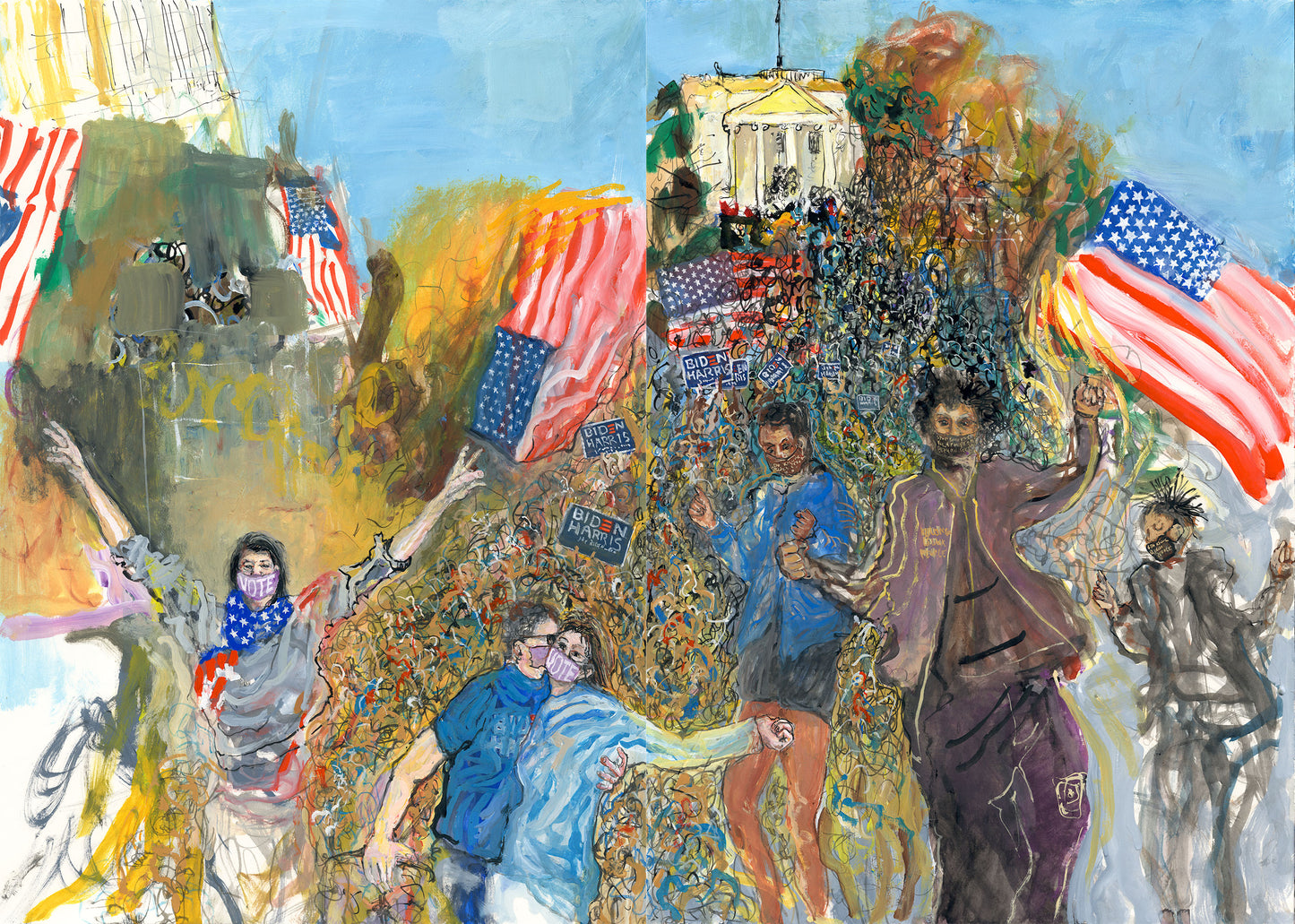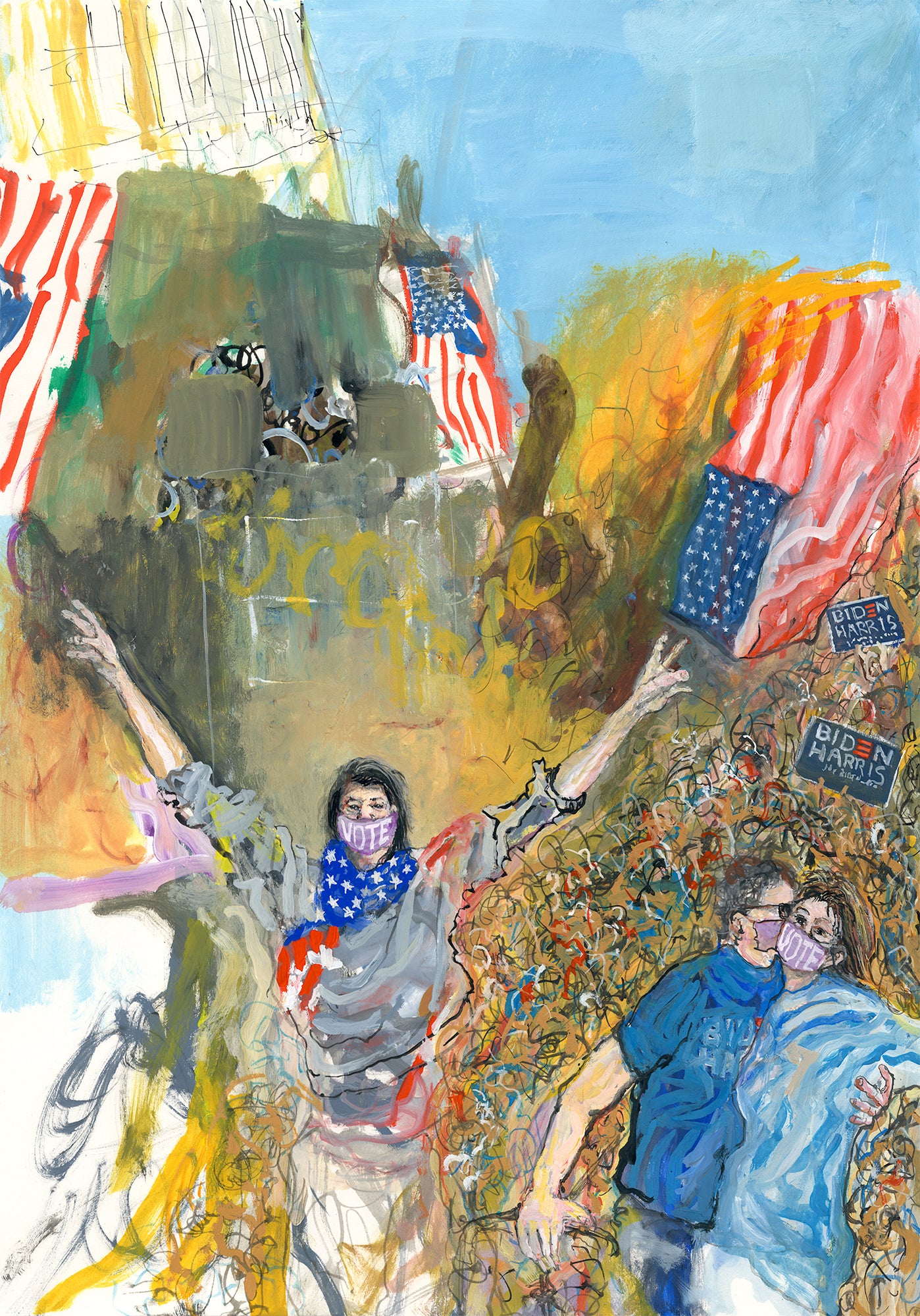 Beautiful expressive print that captures a crucial historical moment perfectly!
If this moment in time had you worried about our democratic process and our continued fight for civil rights you will love this print!
OH my goodness. This piece was even better...
OH my goodness. This piece was even better than anticipated. Gorgeous, detailed work that really captures this particular moment in time so vibrantly. Arrived quickly, packaged professionally. Could not be happier! Will be sure to stay tuned to this amazing artist!